User Configuration\Administrative Templates\Start Menu and Taskbar
Available policy settings:
Name

Explanation

Requirements

Change Start Menu power button

This policy setting allows you to set the default action of the power button on the Start menu.

If you enable this policy setting, you can choose one of the following available options: Shut Down, Sleep, Log off, Lock, Restart, Switch User, or Hibernate. By default, Shut Down is the default action.

At least Windows 7 or Windows Server 2008 R2
Set the shutdown action for the Classic Shell Start menu
One of the most frequent questions readers ask me is how to set the desired shutdown action for the Classic Start Menu, which is a part of the Classic Shell app. Although the required option is available even in the Basic Settings mode, which is on by default, users are still getting confused. Here is how it should be done.
RECOMMENDED: Click here to fix Windows errors and optimize system performance

Classic Shell is the well known free tool which improves upon the Windows Start Menu, File Explorer and Internet Explorer. It is really a must-have app for all Windows 10 and Windows 8.x users compared to the barebones stock menu.
The default shutdown action setting is applicable only to the Windows 7 style of the menu:
To change the shutdown action for the Classic Shell Start menu in Windows 7 style, you need to do the following.
First, open the Classic Start Menu settings. Just right click the Start button and pick Settings as shown below: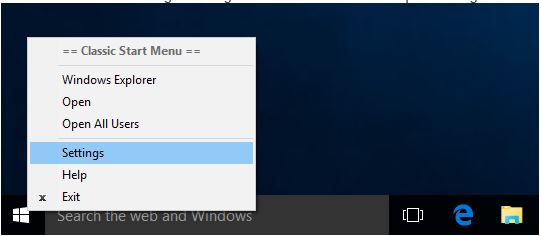 If you have not enabled the option "Show all settings", you will see the Basic Settings tab. Switch to the Basic Settings tab. Scroll down till you see the "Shutdown command" item. There you will be able to set the desired default shutdown action: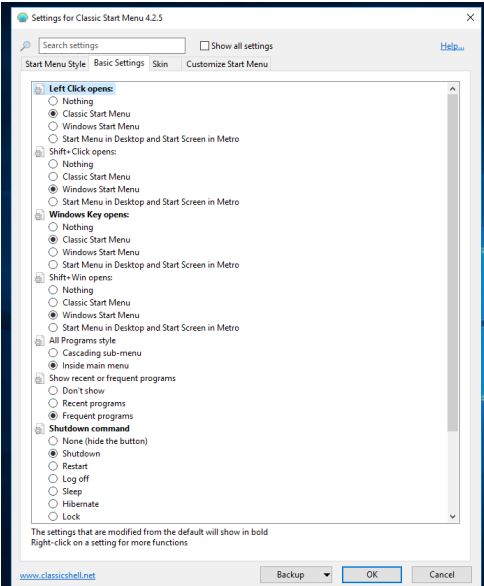 If you have enabled the option "Show all settings", go to the tab named "Main Menu". Again, scroll down till you see the "Shutdown command" item and set the desired power button action:
If you don't want to locate this setting by navigating tabs, type into the search box of the Settings window: shutdown and set it.
This is for the Windows 7 style. For the Classic styles of the menu, follow these steps:
Go to the Customize Start Menu tab and scroll down the left column.

Select "Shutdown dialog" and press Enter or double click it.
      3. 
Change the command "shutdown_box" to the action you want - lock, logoff, restart, shutdown, hibernate, sleep etc. This changes the default action when you click the main Shutdown button itself.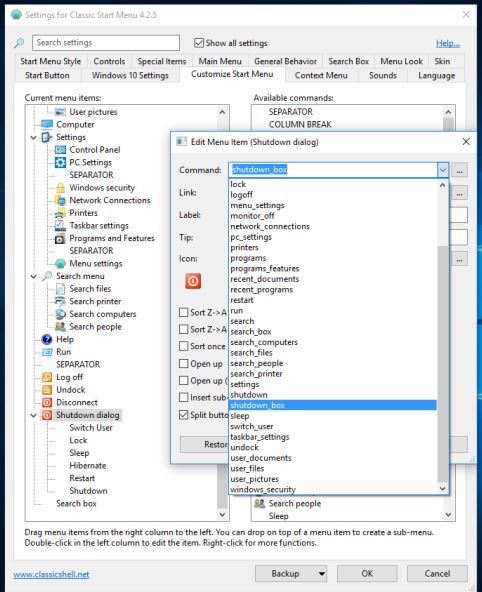 4. 
You still get a
sub menu
 showing other actions.
That's it. The Classic Shell app is one of the best Start menu replacements and it is free. So it is worth learning its settings to use it efficiently.